Add one or more vehicles to a Commercial Account
You can add single or multiple vehicles to your Commercial Account. Add vehicles in bulk by uploading a formatted CSV file, such as an Excel spreadsheet. You can add up to 1,000 vehicles at a time.
To save time and avoid errors, we recommend you download and use our template every time you make a bulk vehicle update.
Newly added vehicles don't automatically receive a new tag, but you can order extra tags for your Commercial Account online at any time.
When you travel with a vehicle from your Commercial Account that has no tag, any trips you make come with a video matching fee.
Select 'Vehicles' from the menu
Select the 'Add vehicles' tab, then select 'Add vehicle'
Under 'Add vehicles manually', enter your vehicle details. You can cover trips by up to 9 days ago by entering your first trip as the vehicle's start date
Select 'Add vehicle to account' to finalise your update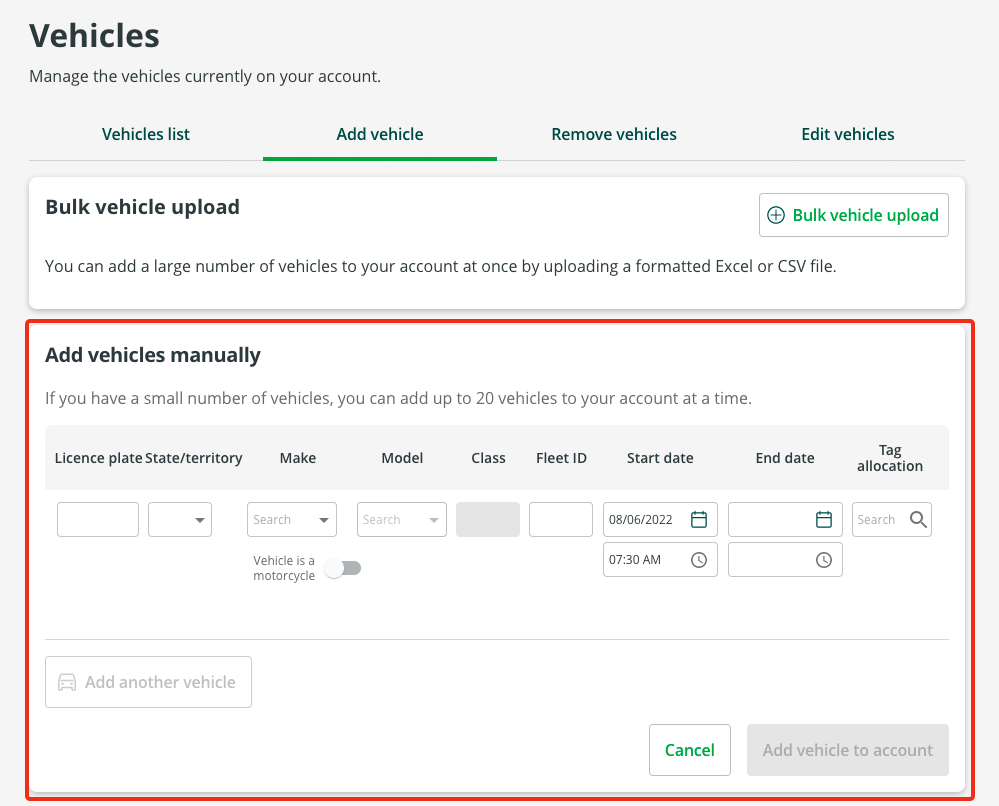 Select 'Vehicles' from the menu
Select the 'Add vehicles' tab
Select 'Bulk vehicle upload'

Download the template file, open it and enter the details of vehicles you'd like to add your account.

Select 'Choose file' and upload your file from your device or drag the file to the upload section
Select 'Upload' to finalise your update
Bulk uploads may take up to 3 hours to process, depending on the number of vehicles you update. When your upload has passed the initial validation check and has uploaded successfully, you see the below message. You'll receive a confirmation email when your file is processed.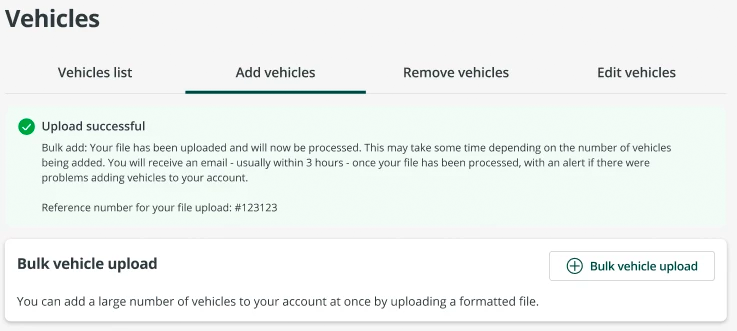 Information you need to add vehicles in bulk
Vehicle details you must include:
Associated account number
Licence plate number / registration number
Acronyms of registered state (VIC, ACT, NSW, NT, QLD, SA, TAS or WA)
Make and model
Class (CAR, MC, LCV, HCV)
Optional vehicle details:
Plate type
Year of manufactory
Colour
Fleet ID
Start date (to add future cars in advance)
End date (if applicable)
Existing tag number
Upload errors
If there's an error with your vehicle upload, we'll notify you with an email alert. On your account, you'll also see an 'Upload unsuccessful' message with potential solutions.
Upload errors can include:
Leaving required fields empty
Mistakes, such as incorrect details or typos
Formatting issues
You can try to fix any issues on your file and re-upload the file to your account.
Bulk Upload error message example