You don't need to allocate your tags to vehicles. In your account, under the Tags and holders screen you'll see the Last known plate listed underneath your tag serial number when you log in to your account. This is the last licence plate number we've identified travelling on a toll road with this tag.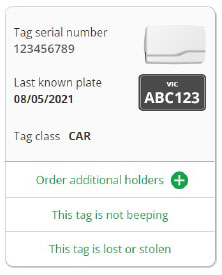 The Last known plate is updated when our tolling system detects both your tag and a vehicle licence plate number. To avoid any speed bumps, we recommend that you add all vehicles using your tag to your account.
If you don't travel very often, or we weren't able to detect your licence plate, the Last known plate may show as 'unknown'. The Last known plate will update the next time you travel and we're able to detect both your vehicle licence plate number and your tag.