Signal and sign meanings
Lane signs
We use a variable message system that allows us to change speed limits and close lanes in response to what's happening on the road.
Sometimes we need to lower speed limits or close lanes to ensure the safety of motorists, response teams or road workers. It's important that you stick to the displayed limits and don't drive in a lane that has been closed as there may be an incident ahead.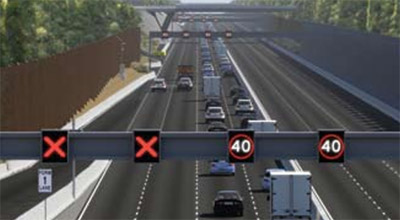 What the signs mean

A red X means a lane is closed. You must not drive in a lane that has been closed by a red cross.
Speed limit signs change in response to incidents or congestion on the freeway. They also indicate the point where a closed lane is reopened.

When an incident occurs, arrows tell you which lane to move in to. When necessary, these arrows will direct you to exit the freeway.
Tunnel signs
In addition to the signs above, tunnels have a few extra signs you should be aware of:

Proceed with caution

Emergency exit

Help phone