Whether you're visiting for work or play, a Sydney Pass is all you need.
You'll be good to go for up to 30 days on any Sydney toll road, with just your credit card, licence plate number and travel dates.
Sort your trip today.
Easy auto payment
Your card will be debited after every $10 worth of travel.

Zero commitment
No tag, no account, no opening credit.

Short-term travel
You'll be covered for up to 30 straight days of toll trips.

Plus with every Transurban Linkt product you get
All roads

Travel on all Australian toll roads

Unlimited Vehicles

Unlimited vehicles on your pass
Transurban support

24/7 access to your pass online
LinktGO: a new way to pay for tolls
No account or tag needed. Just download and GO.
Test drive our new app. Get a $10 gift card.
Terms apply.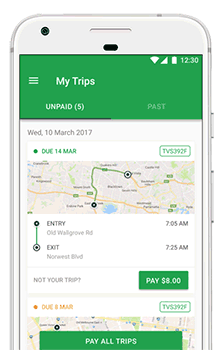 How does a Sydney Pass compare to my other options?
Short-term travel
Up to 30 days of travel
$1.50 start up fee
$0.75 vehicle matching fee per trip
Card auto debited every $10 of travel
1 to 30 days' consecutive travel
Tagless travel
Regular travel
Travel at least once a month
$15 tag deposit
No vehicle matching fee
Pre-paid with multiple payment options
Claim M5 cashback
Tag gives realtime account feedback
Occasional travel
Travel a few times a year
$1.50 start up fee
$0.55 or $0.75 vehicle matching fee per trip
Auto-pay as you go
Claim M5 cashback
Tagless travel