If you only use toll roads occasionally, a Tagless account makes paying easy.
You're good to go on any toll road in Australia with just your credit card and licence plate number.
Start travelling today.
Pay as you go
Your card is charged at the end of the day.

Tag-free travel
Your licence plate number is all you need to get started.

Low $1.50 start up fee
Just set up and go. You can start travelling straight away.

Cashback for M5 trips
Get a little something back every time you take the M5.

Plus with every Transurban Linkt product you get
All roads

Travel on all Australian toll roads

Unlimited Vehicles

Unlimited vehicles on your account
Transurban support

24/7 access to your account online
Manage your account on any device
Taking care of your toll travel has never been easier. Our mobile-friendly website works on your smart phone, tablet, laptop or desktop. You can view your recent trip history, check your balance, top up your account, order a new tag or change your payment details. All with a few simple clicks.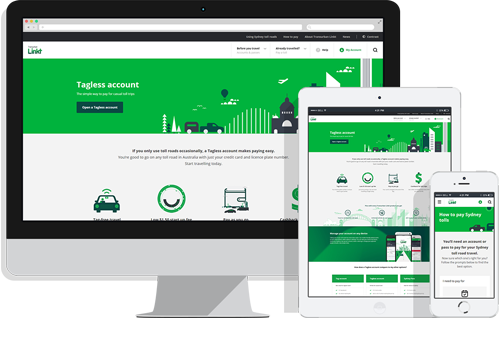 How does a Tagless account compare to my other options?
Occasional travel
Travel a few times a year
$1.50 start up fee
$0.55 or $0.75 vehicle matching fee per trip
Auto-pay as you go
Claim M5 cashback
Tagless travel
Regular travel
Travel at least once a month
$15 tag deposit
No vehicle matching fee
Pre-paid with multiple payment options
Claim M5 cashback
Tag gives realtime account feedback
Short-term travel
Up to 30 days of travel
$1.50 start up fee
$0.75 vehicle matching fee per trip
Card auto debited every $10 of travel
1 to 30 days' consecutive travel
Tagless travel